Everything we do at Bambou Salons & Spas is governed by a set of Core Values which were created by owner Sean Barnard, but reflected in every single interaction with our beautiful guests.
With so many choices, why would you pick Bambou Salons & Spas? With 40 years of experience in corporate hospitality and guest services, spanning 3 countries and several States, owner Sean Barnard describes why he's built the brand the way that it is, and why he hopes guests looking for a new salon will pick Bambou.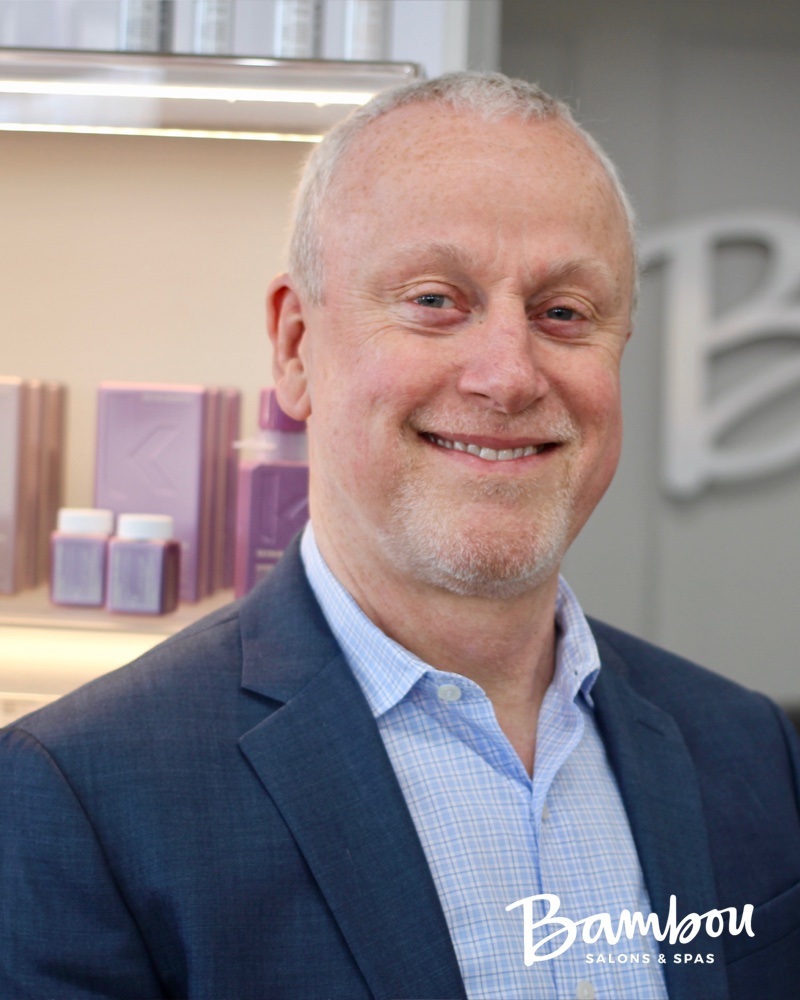 Sean Barnard, Owner
Q: What are the basic principles of how the Bambou brand operates?
Sean: "The core of who we serve and how we run this business are centered around our 5 Core Values. Each of our team-members are expected to live by them, but much, much more importantly, I as the owner, have to show every day that they apply to me first and last.
Leadership is the glue that keeps a strong team working together, keeps them at the top of their game and keeps them a part of the Bambou team. Quite simply, I'm passionate about our Core Values, and our Core Values keep me passionate."
TEAM
We are a fun, service oriented and productive team.
I am convinced that there are fewer and fewer FUN places to work these days. The sound of laughter and team-members enjoying the company of their guests and colleagues is so important to our success.
We would all retire and never work again given the choice, but that's unlikely! So, creating a light-hearted, but respectful atmosphere is what we aim for every day. Every appointment is designed to maximize our productivity, but we focus a lot on making sure that when you arrive, you feel that you're the most important person to sit in that chair.
RESPECT
We treat everyone with respect and assume positive intent, every day with everyone.
Aretha Franklin would have been proud of our second Core Value. Respect is critical for success and I have seen the positive results when every voice has equal value. I make decisions based on input from our stylists, front desk teams, vendors and our team that is working behind the scenes. No one voice outweighs another.
I also believe that when we all assume positive intent, there is a more positive discussion or debate whenever there is disagreement, complaint or challenge.
INTEGRITY
We will do the right thing, even when no one is looking.
When I bought my first salon in Downtown Overland Park, I found that there were cheaper ways to operate and make a profit, but it didn't feel 'right'. Without going into details here, there are always ways to cheapen the product, grind an extra dime out of a guest, make team-members work harder without appreciation or compensation, but I live by this Core Value and never shy away from it.
When one of our team reported that her computer would shut down randomly, we bought a new desktop the same day. When a guest reports that they really don't like any styling product they purchased with hard earned dollars, we refund without question. When a stylist suggests that a fan would make their guests more comfortable, we ask what would work the best, not the cheapest. It might sound more costly, but I'm confident it's 'the right thing to do'.
SUPPORT
We support a positive, responsible and inclusive environment, internally and within our communities.
The general rules for "Support" are very simple: Recycle everything you can, only purchase cruelty-free products, buy from environmentally conscious manufacturers, give back and donate with a "just say yes" philosophy, keep our dollars local, and hire, train and promote without any form of discrimination.
It will always be our goal that our guests will be proud to support a locally and privately-owned small business that is an environmentally responsible and good economic citizen.
STANDARDS
We promise high standards in an enjoyable, welcoming and clean environment.
All our stylists and beauticians are professionally trained and licensed with an ongoing focus on how to perfect their skills. Fashions, styles and techniques are ever-changing, and we want our stylists on the cutting edge of every update. It's one of the reasons we have an in-house Master Educator for the Bambou brand. Every team-member has access to a world of professional training with their Bambou Education Dollars and additional ways to learn through our partnership with the Salon Service Group.
To welcome our guests, we pay attention to how warm or cold the salon is, what type of music we play and if we have every type of beverage our guests expect. We also maintain our high standards with our own team of Inspectors who ensure that every aspect of each salon meets and exceeds the State minimums. Every point of contact our guests have must meet not just our expectations – but theirs.
Schedule your next appointment in
Overland Park or Blue Springs today!